MR2 Only Magazine
I'm Pam from MR2 Only Magazine in the UK and thought perhaps I could give you a little detail about us.
As our title says - we are MR2 Only!!! and cover all the marks Mk1 - MK2 and the Roadster/Spyder of course
We are a small family run business with a personal touch which we pride ourselves on and all of us are MR2 owners, between us we have Mk1 track car - Mk2 - and 2 roadsters/spyders, O and a couple of others hidden away ........... so I think you could say we are true MR2 enthusiasts.
We have been producing MR2 Only Magazine now since the end of 2006 and distribute world wide, the UK, EU, Australia, New Zealand, Japan, Australia and of course Canada.
In issue 10 we have featured DanL's car on our front cover and in 6 pages inside - it made a really good spread and what great cars to show everyone.
If you are interested in our bi-monthly magazine we feel we can offer you a really good deal as club/forum members
So how about we do some discounts for you?
PRICES
We can do you a special discount for our 9 back issues for £45GBP that's 90CAD including shipping costs to Canada, these would normally cost £63GBP or 126CAD
and for our 6 issue subscription which can be started at any issue is £40GBP - 80CAD that's all including postage and packing
Issues 1 - 7 single issues are £5.50GBP = 11CAD
Issues 8-9-10 single issue £7GBP = 14CAD
Issue 10 is out now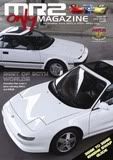 Any questions or queries please email me
info.mr2only@ntlworld.com
We're always looking for new ideas and feature cars so please get in touch! distance is no object Also, our Readers Rides section is as always recruiting new cars, so if you'd like to see your car in Readers rides, drop me a line...
Pam
www.mr2only.com